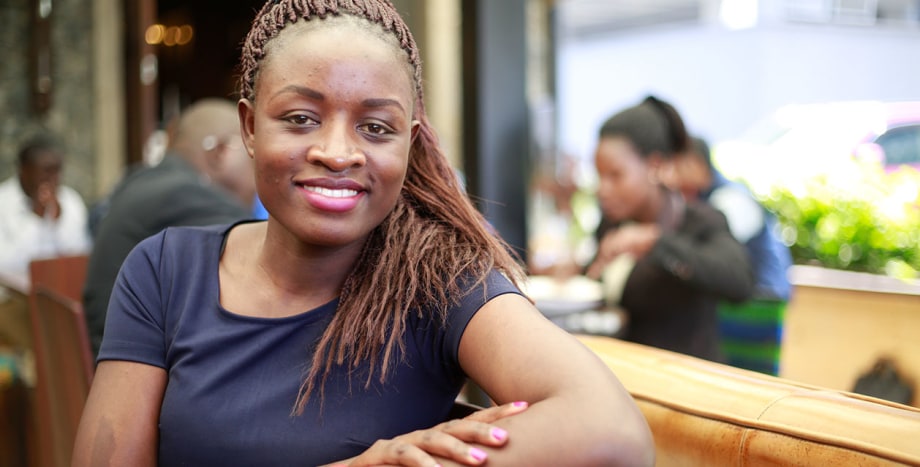 Annet | Nairobi
Education without employment
Annet was born in Bungoma, a village in rural Kenya, and raised by a single mother with a passion for her children's education. Annet finished high school and completed a diploma in business management at great financial sacrifice to the family. "But finding a job was not easy. I was fresh from college with only a diploma, competing against people with degrees," she says. Eventually she found a job as a cleaner.
Generation gave me new motivation
When Annet had an opportunity to join Generation Kenya's financial services sales program, she jumped at it. But she was surprised by what she learned there. "We were really taught how to handle stress, how to believe in yourself, how to relate to your employer. It really motivated me."
That changed Annet's whole approach to interviewing. "Before, I didn't know how to express myself, and my self-esteem was low." With her new self-belief, Annet excelled in her interviews and was offered not one but three jobs after Generation. "After struggling for so many years, it was now up to me to choose which company I wanted to work for."
The top performer nationwide
Annet chose to join a new branch of NIC Bank, where her job was to convince businesses to open accounts and buy financial products. Initially she struggled to meet her targets. "So I really reflected on what I'd learnt from Generation, and I said to myself: God help me, I'm going to do it." That month she opened 33 new accounts, making her the best performer in the country.
Stepping stone to the future
Annet kept on making great sales month after month. When she spotted a job opening at Safaricom, Kenya's leading mobile telecom operator, she decided she was ready for the next step in her career. "I was making good money, but Generation taught me to seize opportunities to learn and grow." She shone in that interview too, and is now thriving in her customer care role.
Annet has only just got started. True to her mother's commitment to education, she has enrolled in part-time university degree course, and is planning to do her Masters. She's also paying school fees for her younger sister, and college fees for her brother. "Back in the village, my mom really likes telling people what I've achieved!"